OUR PARTNERS IN CRIME
KK is getting into bed with some of the coolest brands and illustrators on the net. We only work with brands that share the same values as us so you can expect lots of exciting and equally cheeky products coming your way.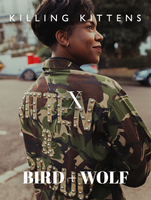 Bird + Wolf
Upcycled ex-army wear, embellishing them with messages and personal statements chosen by you.
Made for conflict, worn for love.
Shop now
Venus Libido
Artist and illustrator with original works that promote body positivity and female empowerment.
Venus's original designs not only speak to our audience but look glorious on our apparel.
Shop now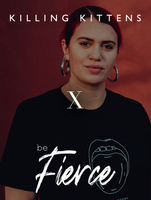 Be Fierce
Be Fierce designer Laura has a penchant for all things naughty.

Creating digital, photographic and original artworks from her South London home she came across KK whilst listening to a Podcast featuring founder Emma Sayle and instantly had to get involved!
Shop now
Rach Jardine
Rach Jardine is a sex-positive illustrator and content creator, answering all the questions we've been silenced for asking while growing up. She covers topics from contraception to toys to masturbation on shame-free grounds.
Instagram: @rachjadine
Shop now